Third season of music at the Ross Farm promises to the best yet!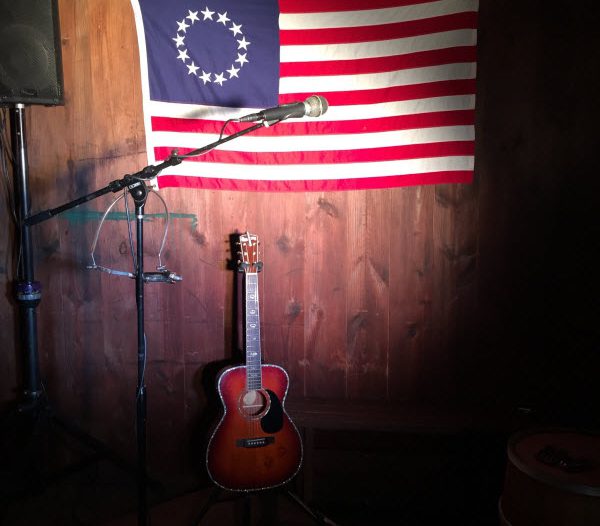 We're absolutely delighted with our 2017 Music Series lineup at the Ross Farm and pleased to announce that we're creating a "Band of Friends" for the music lovers who plan to attend all seven concerts on our schedule. We're also making it easier to RSVP for concerts on our website
The musicians we've hosted since 2015 have discovered our gem of a venue. We're fortunate many want to come back and have included us on their busy tour schedules! Our first concert, scheduled for Sunday, March 26 , is a combination of Kyle Cox and Matt Hires in a return engagement for both of them. Kyle and Matt are based in Nashville now, and are longtime friends from Florida – this should be a very special show to kick off our 2017 season!
Folks who have attended any of our three previous Christian Lopez concerts keep asking when he's coming back – and we're very happy to say he'll be here on Sunday, April 9 with Don Gallardo, a Nashville songwriter who walks the line between folk, Americana and roots rock. Singer-songwriter Brian Dunne makes his first appearance at the Farm on Sunday, April 23. With his sharp lyrical prowess and country-influenced vocals, Brian has played the U.S. folk scene far and wide, and we're looking forward to hosting him right here in Basking Ridge.
The Rad Trads are going to bust us out of our folksy, singer-songwriter genre with their unique brand of American rock & roll tinged with blues, jazz, Americana, funk and R&B. This six-piece band will Rock the Barn on Sunday, May 21 – and their trumpet, trombone and saxophone players represent the first horn section to play one of our Ross Farm concerts. Their latest record is "Must We Call Them Rad Trads," but we're sure you'll call them "awesome" once you've seen them play! Past tour highlights include jazz festivals in Atlanta, Rochester and Columbus and exciting tours to the Russian River Jazz & Blues Festival, a monthlong European festival tour and performances in Italy, Edinburgh and Borneo. Shortly before their Basking Ridge show, the Rad Trads have a three night run in Switzerland.
Jared Mahone will make his debut at the Ross Farm on Saturday, June 3. Jared's raw, acoustic songs and storytelling are inspired by his upbringing on 90s soul, R&B, and hip-hop. He creates a sense of intimacy no matter how large the stage, wrapping crowds into a narrative of which they ultimately become the subject. We can't wait to finally have Jared at the Farm!
Another "Summer Celebration" concert is in the works for late June, after Bernards Township schools close for the summer. We're keeping it under wraps until we have more details – so stay tuned!
After taking a little break over the summer, we jump back into our music series in October. Last year we hosted a concert on Saturday night of History Weekend and are doing it again by hosting singer-songwriter Taylor Carson on Saturday, Oct. 14. Taylor is an Essex County native who now calls Northern Virginia home. Most recently, he opened for Billboard chart-toppers O.A.R. during their XXmas Wish List Tour celebrating their 20th year as a band.
These artists perfectly fit our Music Series motto, "American Voices: Making Music Where History Made America." Our musicians have each brought their unique stories and voices to the Ross Farm and they always seem to leave with an appreciation for the beauty and history of the Farm plus as a good number of new fans! They've consistently expressed their appreciation for our audiences who truly listen to the music being performed for them.
We have grown a terrific audience for live music on the historic property and are confident returning and new music lovers will support our efforts through their donations. Our bands are paid with donations and any extra funds go directly to the activities supporting the mission of the Friends of the Boudinot-Southard-Ross Estate. For most of our concerts, the suggested donation will be $20 for adults and $10 for students. We ask those who wish to attend a concert to 'RSVP' on the website so we can track our expected audiences. Those who RSVP before the concert will be guaranteed to have a spot for the show; walk-ins at the door risk being turned away if we have a capacity crowd. To make things even easier, guests will be able to make their donation on the website as well.
An exciting new offer this season is our "Band of Friends!" If you're thinking of attending all seven concerts, get a discount by donating $100 and you'll be in the Band of Friends! You'll also receive a few special perks related to our concerts and musicians. Become a member of our Ross Farm family by joining the Band of Friends!
All the exciting details for the 2017 Music Series will be added to our website as we get closer to each event. And be sure to "like" the Ross Farm – Basking Ridge on Facebook for updates and links, too!