TEOA
September 10, 2022 @ 6:30 pm

-

9:30 pm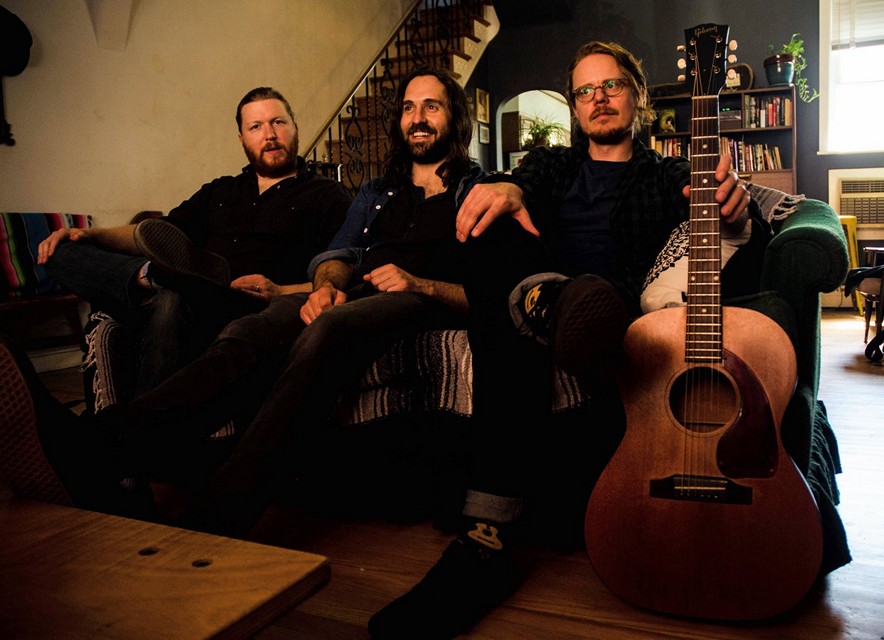 Doors 6:30 p.m./Music 7 p.m.
Suggested donation $25/adults, $5/students
TEOA (The End of America) is James Downes, Trevor Leonard, and Brendon Thomas: a band of friends who met on the road and found a kindred spirit in one another. The Philadelphia/Connecticut/New Hampshire based trio credit their name to Kerouac's On The Road, travelling "across the groaning continent" in search of inspiration and reaching "the end of America, no more land, and now there was nowhere to go but back." TEOA's sound weaves three distinct lead vocals into captivating harmonies over a solid foundation of folk, rock, and Americana. Songwriting Magazine UK writes, "(TEOA's) classic songwriting and tight harmonies provide a perfect antidote and an example of what's possible through collaboration and unity."
TEOA has been recognized for "live performances that highlight their songwriting, harmonies and stage banter," according to Stitched in Sound. A Soulful Sound writes, "Anyone who has seen TEOA can attest to their powerful harmonies and stage presence."
Their latest album, Night is Alive, was self-released on November 12, 2021. This collection of songs was written and recorded virtually during the first year of the pandemic. No Depression magazine ranked Night Is Alive as Best Alt Country album in their "THROUGH THE LENSE: 2021 in Review – The Best of Everything" list. Amos Perrine writes, "While they describe Night Is Alive as "Appalachian seriousness with a classic rock background," it is also layered like a painter's strokes on a canvas. Their three-part harmony could well be the best since Crosby, Stills & Nash."
Downes, Leonard and Thomas joined forces in 2010 to record their debut LP, Steep Bay (2010). TEOA released Shakey (2012) and the eponymous self-titled LP, The End of America, in 2016. TEOA moved from the album format to singles in 2019, releasing a song per month beginning June and continuing through December of that same year. In 2019, TEOA released "Break Away" (June), "Monsters" (July), "Howl" (August), "He Was a Friend of Mine" (September), "Footsteps in the Dark" in conjunction with Falcon Music and Sony/ATV (October) and "Evelyn" (November). After WXPN (AAA/Philadelphia, PA) recruited TEOA to perform at the 20th anniversary celebration of Jeff Buckley's Grace at World Café Live, TEOA released a cover of Leonard Cohen's "Hallelujah" in December 2019. All of the aforementioned songs were released on the EP, Light Within (March 24, 2020), which Powerpopaholic states in their review, "[Light Within] is the ground floor of a band destined to go far."
In 2020, TEOA continued releasing a song per month, beginning with the Leonard penned "Not the End" (April 30, 2020). Step Inside This House writes, "bolstered by jangly guitars, a sweeping chorus and a breezy effervescence "Not the End" seems like the perfect song for this moment in American history." "Canyon" (June 19, 2020) was written by Brendon Thomas and premiered on American Songwriter, "a heart-wrenching song with climatic riffs building up to the chorus that features fine-tuned vocal harmonies with whirling guitar solos…brimming with stories and memories." The James Downes written "A Million Miles of Low Road" (July 16, 2020) premiered in Glide Magazine, "With sparse atmospheric instrumentation backing a simple acoustic guitar, the vocals shine as the band members sing about grappling with the difficulties of life, it dabbles in melancholy before ultimately transforming into a shimmering folk tune that will brighten your spirits." In October 2020, TEOA celebrated the 10th anniversary of the release of their debut record, Steep Bay, with a special performance live streamed from the legendary Caffe Lena listening room in Saratoga Springs, New York. The band returned to the singles format with releases scheduled between June and September 2021.
Bring your lawn chairs or blankets to spread out and enjoy! Concert will be held rain or shine. Picnics or snacks are welcome, too, we just ask you to carry out what you carry in. Gates open at 6:30 p.m., concert begins at 7 p.m.