'Giving Garden' in Basking Ridge still growing during the pandemic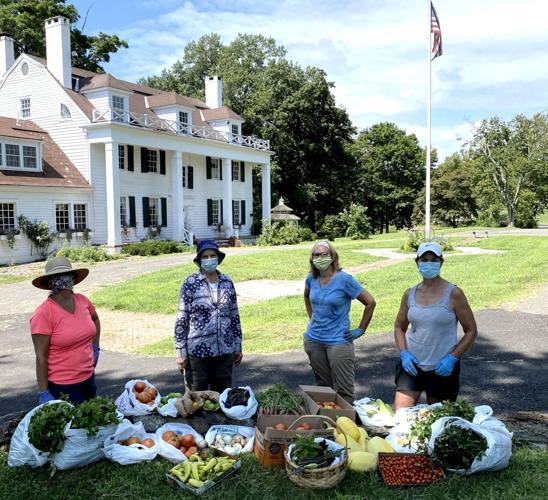 Volunteers provide fresh produce for needy
By NOLA HANSEN Contributing Writer; published in The Bernardsville News Aug 19, 2020
BERNARDS TWP. – Despite having fewer volunteers on hand due to social distancing requirements, senior garden leaders at Boudinot's Giving Garden are still on course to harvest a comparable if not greater amount of produce as last year.
Located at the historic Ross Farm at 135 North Maple Ave., the garden donates fresh produce to several local organizations that help those in need, including the Somerset County Food Bank and Community Hope at the Veterans Administration (VA) Medical Center in Lyons, as well as God's Co-Op Pantry.
The pop-up food pantry created during the pandemic at St. Bernard's Church in Bernardsville was added to that list this year.
The senior garden leadership team broke through the 1,000-pound mark recently, harvesting over 300 pounds in just one week.
With an additional 185 pounds harvested last week, the new total stands at 1,261 pounds, according to Basking Ridge resident Jan Williams, a board member of the Friends of the Boudinot-Southard-Ross Estate (FoBSR) board and garden leader from St. Mark's Episcopal Church in Basking Ridge.
The 2019 record-breaking harvest from the garden was 2,342 pounds. This year's harvest seems to be on par, so garden leaders are optimistic that this year's yield will meet or exceed that record.
While the harvest is about the same, one major difference is the volunteer workforce that makes it possible.
During the past five years, Boudinot's Giving Garden has been a hot spot of volunteerism in the community, from students needing community service hours, to parents and young children working together and senior citizens who have time and desire to give back to the community in a meaningful way.
Leadership teams from a consortium of churches, including St. Bernard's and St. John on the Mountain in Bernardsville and St. Mark's, plan and manage the garden. They also meet with volunteers several times a week to prepare the garden beds, plant, weed, harvest and do all the necessary things to grow the vegetables, herbs and flowers.
But since COVID-19 hit early this spring, the volunteer workforce was severely limited to ensure social distancing. As a result, all of the work this year has been performed by a small group of garden leaders from the churches and FoBSR.
Williams thanked the Somerset County Parks Commission for its multi-faceted support of the garden over the years. She needed to get their permission for a small contingent of workers this year, even as the Ross Farm gates were padlocked when county parks were closed.
Other community events held each year at Ross Farm – like its popular summer music series and the annual ARTsee Happening event – were cancelled in 2020, but the garden continues to grow.
"The county understood the need for this essential work to continue so we could feed those in need in a time when that number was certainly going to grow,'' Williams said. "A few of us would park in a driveway across the street and carry our tools up the long driveway, back to the garden, so we could keep the garden growing."
Helping Neighbors
Williams noted that from the start, garden organizers "had a primary goal of donating fresh food to those in need in our own communities, in our county as neighbors helping neighbors."
The church consortium had previously worked at a community garden in Bernardsville, but some members of FoBSR envisioned having a garden at Ross Farm to grow pumpkins for the group's participation in the county's annual History Weekend.
Williams said that while a community garden is generally a single piece of land gardened collectively by a group of people who then keep the produce, all of the food grown in Boudinot's Giving Garden is donated to those in need.
The church group and the non-profit board of the historic estate came together to bring Boudinot's Giving Garden to life.
The volunteers focus on three points: Growing healthy food; growing needed food; and growing vegetables that are less affordable or less accessible in grocery stores.
They don't grow corn, for instance, because it is plentiful and not very expensive at the grocery store, and like potatoes, takes up a lot of space.
But they do grow Brussels sprouts, carrots, zucchini, onions, squash, musk melons, beans, several varieties of peppers, tomatoes, beets, radishes, tomatillos and more.
Williams said that in the earlier years, the gardeners kept only rough estimates of the total harvest. As they expanded and moved solely to the Ross Farm, though, they realized they should keep track of the harvest, "not to gloat, but to be able to predictably produce enough for each place we donate and to track our successes and the effectiveness of improvements we implement."
She said that 2,000 pounds is about the right amount to share among the three groups in the county and the Lyons veterans center.
Last year, the garden gained a new feature that had been in the works from the beginning when a "historic bed" was completed in the center of the garden.
Circled by logs hewn from a fallen tree on the property, the bed grows herbs that would have been found in New Jersey in earlier days. Williams points to a strong partnership with volunteers from the Wick Garden at Jockey Hollow National Park for providing plantings for the historic bed.
Annuals planted in front of the garden fence also serve as pollinators and add extra beauty.
"It's a magnificent place," Williams said, pointing out that the group practices organic gardening and tries to use only natural items to fertilize and keep out critters and control insects.
Examples include aluminum foil wrapped around the base of zucchini to prevent squash bugs from killing the plants, and pie pans of beer set among other plants to keep slugs away.
Williams said garden leaders work together to plan the garden each year. They also experiment with new things, she said, pointing to a smaller bed in the garden where they'd finally gotten a good crop of carrots for the first time last year.
Asparagus was also great last year, she said, noting that it takes three years to harvest, but then reseeds and comes back more plentifully the next year.
Community Effort
The crew also composts, and benefits from prior Eagle Scout projects that provided composting beds as well as an essential garden shed.
In addition, Girl Scouts have created a butterfly garden and garden markers made from wooden spoons.
FoBSR member Peter Winter created a reliable watering system. Improving irrigation is an ongoing effort.
Young children visit with their parents to learn about gardening, from crop rotation, harvesting and the impact of insects and animals on a harvest, as well as helping their community.
Teens who have volunteered in the past seem to be happy to "get their hours in'' while working outside, whether its weeding or spreading wood chips along the path.
Williams and the garden leaders look forward to welcoming back a full complement of volunteers when it is safe to do so, but in the meantime take comfort and pleasure in their efforts.
Recently, Bernardsville resident Cathy Ferrara, garden leader from St. Bernard's Church, spent her first days back in the Giving Garden.
A nurse who had been working in an active COVID-19 unit at Morristown Hospital, she explained that she didn't not want to possibly pass the virus on to other garden volunteers, so she stayed away.
After the situation improved at the hospital, though, she was grateful to be back working the earth.
When someone told her she was "doing the Lord's work," she replied that working in the garden was the Lord's gift to her.
Joining Williams and Ferrara in the consortium are Nina Dixon of Bernardsville, Craig Johnson of Basking Ridge, Lindy Judd of Bedminster and Hilary Thomas of Denville.
While several FoBSR members help in the garden, David Torcivia was the driving force to build the garden and continues to maintain its structural soundness.
Basking Ridge residents Hilary Klimek and Jan Malay helped form the partnership with the Wick Garden volunteers. Karen Morley, also of Basking Ridge, serves as a representative of both St. Mark's and FoBSR.
Jeff West and Ken Van Baalen help with structural work and maintenance; Ned Nelson and David Becker can often be found chipping and doing other heavy lifting, while new FoBSR member Karin Hanlon recently joined the garden committee in an active role.
In addition, the garden crew is often on hand at public events to show guests around the historic property.
Named for its last private owner, Edmund Ross, whose estate sold the farm to Somerset County in 2005, the property was home to several prominent figures who played critical roles in the founding and early years of the United States.
Elias Boudinot, president of the Continental Congress from 1782-1783, purchased the land in 1771.
In 1785 he sold it to Henry Southard, who served in the House of Representatives for New Jersey from 1801 to 1821. His son was Samuel, who attended the Brick Academy, later became governor, a Senator and secretary of the Navy.
While all public events have been cancelled this year, photos and updates from the gardens are posted on the farm's social media sites on Facebook at The Ross Farm – Basking Ridge, and on Instagram at rossfarmbr.