The Ross Farm "ROCK THE BARN" Poster Contest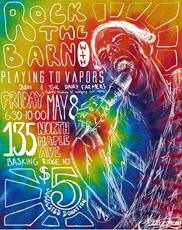 Here's an opportunity for local young artists to get in on the excitement for our 2nd Annual Rock the Barn concert in May! We had a spectacular event poster last year thanks to Kayleigh Torcivia, and we're excited to see what our creative kids can come up with for this year's concert! RHS art students may have gotten this form from their art teacher, but the contest is open to any local youth – not just in the art classes, and not just at Ridge.
Know someone who might be interested? Please share this link Poster_Contest_2016 with them.
Email NolaJH@msn.com if you have any questions.