The Young Fables Concert & Film Screening
July 30, 2022 @ 6:30 pm

-

9:30 pm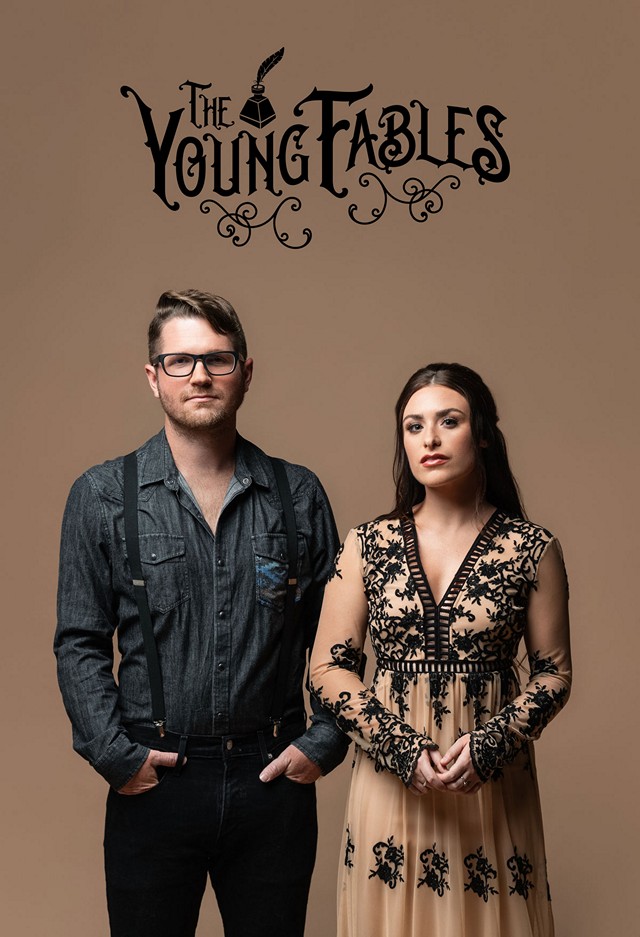 Doors 6:30 p.m./Music 7 p.m./Screening of Fable of a Song/8:30 p.m.
Suggested donation, $25/adults, $5/students
The Young Fables (TYF) are the promising Modern Traditional Country™ duo comprised of SHURE Microphone endorsed vocalist Laurel Wright and Gretsch endorsed guitarist Wesley Lunsford. The team is maybe best known for having been selected by Shania Twain to appear on USA's showcase television series Real Country.
The act hails from Maryville, TN and has already collected impressive accolades including the Grand Prize at the Texaco Country Showdown which landed Laurel on the Ryman Auditorium stage at age 16. TYF first engaged and organically expanded their grassroots following while on the road supporting their first two studio albums Two in 2017 and Old Songs in 2019. They've appeared with such notable acts as Lauren Alaina, Rascal Flatts, Josh Turner, Sara Evans, Chris Janson, Randy Houser, Delta Rae, Liz Longley and Chris Lane. Capturing the ears of three of the industry's most revered names, Keith Urban said they "had me immediately," Big Machine CEO Scott Borchetta praised "a flawless vocal" and Sheryl Crow tweeted, "Just heard The Young Fables in the Nashville Airport. Laurel's as good as any country singer out there!"
The nationally syndicated Cumulus morning show The Ty Bentli Show embraced the duo featuring them regularly in the hot topic #10MinuteTune segment. In addition, CMT exclusively premiered the music videos for "Completely" and "Half as Good" with both going on to garner regular rotation on country music video channels. Following the launch in May of 2018, the rave reviews and impact of their sophomore release Old Songs, a ten song album produced by the Grammy Award winning Mitch Dane, secured TYF their official debut at the CMA Music Festival on the Spotlight Stage. Their milestone year closed with two breakthroughs. Rolling Stone spotlighted TYF with a "10 Best Country and Americana Songs of the Week" with the release of their adaptation of the Patsy Cline iconic hit "Crazy" stating, "Simple and heartbreakingly direct…a poignant performance that's as lonely as the song's lyrics." Also, via an invitation from Shania Twain, TYF were featured on USA Network's Real Country premiere featuring the aforementioned Twain alongside Jake Owen, Travis Tritt and special guests Big & Rich. "When I heard Laurel's voice for the first time, it was just extremely impressive," said Shaina. "Wes is a perfect partner for Laurel's voice. I fell in love with these guys as a genuine, authentic talent and sound. We need you in this industry right now."
The Young Fables just released their third record PAGES and the feature documentary 'The Fable of a Song', chronicling a remarkable series of events that rocked TYF in 2018. The story of the tragedies the band underwent have delivered a notable platform from which the duo speaks to a global audience about depression, loss and resilience. The film has already captured multiple awards including the 2021 Nashville Film Festival audience choice award. Meanwhile, high praises from Rolling Stone and THE SCREENPLAY TOUR (a route of venues, independent theaters and house concerts across America) are helping to secure the team's spot on the story of country music.
Bring lawn chairs or blankets to spread out and enjoy the concert. Picnics and snacks are welcome, but please carry out what you carry in. Event will be held rain or shine.